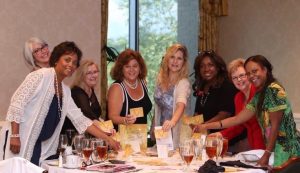 We've seen some changes but it has been at a snails pace and feels painfully slow.  When women leaders 'take the lead' our lives will change in profound and relevant ways.
The ground swell of future leaders are emerging – they look very different because they're not the Founding Fathers, they're the Founding Mothers.
It's predicted (and hoped for) that by the year 2034 the majority of high-level leaders will be women, based on their more transformational qualities according to leadership scholar.
"There is a growing body of research that has studied the leadership styles and leadership "potential" of men and women, typically men and women managers (but also women in non-managerial positions). For example, using the theory of transformational leadership as an indicator of successful leadership (transformational leaders are inspirational, positive role models, concerned about followers, empowering, and push followers to be creative and take chances).  Research shows that women, as a group, have more transformational qualities than men. In other words, and based on this research, women have more leadership potential and tend to lead more effectively than men."  ~Ronald Riggio, Cutting Edge Leadership
Many men in leadership positions are beginning to understand that the old way of leading – taking charge (command and control) – may not be as effective in today's world and in the future, so they learn to adapt and change how they lead.
Oh yes, I dare to continue dreaming of a better world with more balance and equity.
It's thrilling to see what will happen.  Hold on – loving leaders are coming!
How about you?  What do you think?
What do you think the world will be like with more women leaders?
Anticipating a better future,
Christine
Gender and leadership Books:
Alice H. Eagly & Linda L. Carli (2007). Through the Labyrinth: The Truth About How Women Become Leaders. Harvard Business School Press.
Karin Klenke (2004). Women and Leadership: A Contextual Perspective. Springer Publishing.