Training, Keynotes & Workshops

"Christine Martinello's messages are full of wisdom and powerful principles.  Get ready to open your mind and heart to what's truly important for personal and professional success."     ~Jack Canfield, Chicken Soup for the Soul
Popular Topics & Descriptions:
Give the Gift of Love, Forever.

Loving & Balancing Life.  Yes, it's Possible.

Live and Lead with VICTORY©.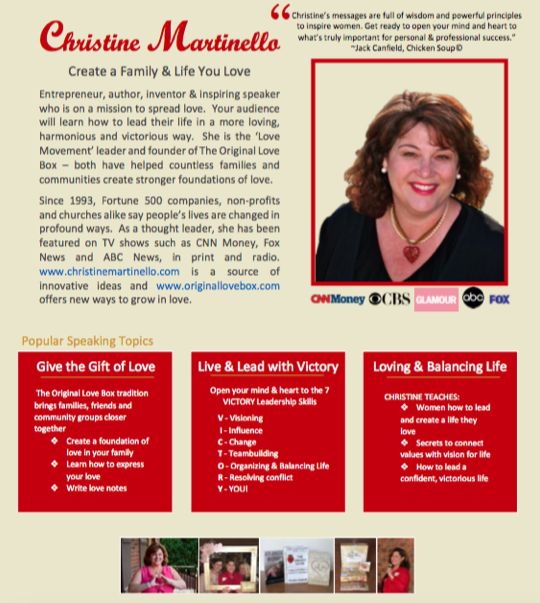 Give the Gift of Love, Forever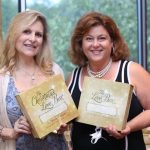 Despite being connected 24/7, so many people feel lonely. Love and connection is the answer.  Christine's mission is to spread love.  She helps people create a family and life they love.  Christine shares ways families, groups and communities can express their love and grow closer together with the Original Love Box tradition.
She shares the amazing story about how God moved her family to love each other intimately and how God can move their hearts with the Original Love Box tradition.  Each person will write and read a love note out loud.
The 'Love Movement' started out as one woman's sacred tradition and has expanded to help tens of thousands of people giving and receiving love.  It provides healing in relationships and helps families build a foundation of love.
The Original Love Box tradition is done with families, community & church groups and businesses.
Weddings & Anniversaries
Birthdays & Baby Showers
Every Holiday – Valentine's Day, Mother's Day, Thanksgiving, Christmas, etc.
Graduation
"The Original Love Box provide families and couples of any age a way to grow closer to one another and to God. Beautiful for any phase of life!"  ~Lisa Hendey, Author & Mom  
Loving & Balancing Life. Yes, it's Possible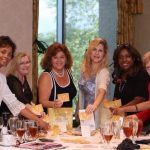 Today's greatest personal challenge is creating an authentic life while balancing our lifestyle.  Balancing the demands of work, family and personal needs is challenging.  Creating a loving and more balanced life is about figuring out how to give more to what matters most based on our top priorities and to give less to what doesn't matter.  It's about connecting with our values and vision for life.
The three main topics we'll explore: 
What is a loving life for me?
What are my top 5 priorities and how can I integrate them joyfully?
What's my plan to live with more love and balance?
The outcome is people who are clearer about what their life priorities are now and how to live with more harmony, meaning and love.
"Christine is truly an inspiration because she's so real and down to earth.   Christine speaks from the heart and I know every woman in that room could relate to her 'Loving & Balancing Life' program."  ~Sheryle Hendry, Cargill
 Live and Lead with VICTORY©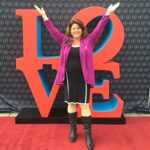 Do you want to lead a confident, victorious life?  If so, the 7 VICTORY Leadership Skills© will help you lead successfully at work and at home.
In this inspiring seminar, you'll come away with messages of transformation, empowerment and strength to help you reach your fullest potential.  Do you want to lead with confidence, overcome obstacles, and learn new skills?
You'll master the VICTORY Leadership Skills©:
V ~ Visioning
I  ~ Influential Communication
C ~ Change Management
T ~ Team Building
O ~ Organizing & Balancing Your Life
R ~ Resolving Problems & Conflict
Y ~ You are valuable
Together, let's explore ways to create a Life & Family you LOVE!  
Business Seminars
Today's relationships require new skills and understanding. These top-notch seminars are designed to help you compete and thrive in today's changing business and home environments.
What do you and your groups want to learn? What are your priorities? Your priorities are our goals. Topics can be customized to meet your needs, whether you want a key-note address, 2 hour session, or a full day workshop. A flexible range of services is offered:
Communicating Effectively
How can you build bridges of understanding rather than road blocks? How can you communicate clearly and concisely each and every time? Explore these objectives with a variety of seminars.
"Your stimulating and informative lecture was warmly received and thoroughly appreciated, and contributed tremendously to the success of the event." ~Dianne Hammet, Executive Women Int'l
Leadership

Do you want to inspire and influence others to achieve results? Your leaders and managers will discover insights into the skills essential to leadership excellence.
"What a pleasure it has been working with you. Your professionalism, unfailing good spirits and your attention to detail were all very much appreciated." ~Celine O'Neill, Univ. of Dayton
Life Balancing, Yes, It's Possible!
Do you want to discover how you can be integrate your life with a healthy balance between your personal and professional life?  Learn how to live a guilt free (mostly) and loving life.
 Part I: Identify YOUR Priorities & Values

Say "Yes" to the Season of life you're in.
Rate and rank high-priority responsibilities.
Identify core values
Part II: Keep life BALANCING
Understanding the 6 areas of life to re-balance.
Connection between mind, body, spirit.
Brainstorm best-practices in the 6 priority areas of life.
Align top priorities and responsibilities.
Successfully use the Life Balance checklist to determine opportunity areas.
Learn to say 'no' diplomatically.
Explore the Top 5 Work/Life Balance Strategies for Success
Happy Clients!
"We had the pleasure to have Christine Martinello as our special guest speaker. She presented us her program on Balancing Work and Life…. yes it's possible.
Christine kept us engaged during her presentation, thanks to the different activities that required the participation of all participants. Another point to highlight was the quality of her presentation material and her great energy and ability to catch people's attention.
During and after the event, I heard great comments about her from different participants. The most common comment I heard was how down to earth Christine was, and because of that people could relate to her much more. These are some of the comments from some participants of this event:
"Listening to the presentation from Christine made me stop and look at the balance in my own life. I am now asking myself what can I do better. I am reading her book now." ~Alison Marincek.
"I thoroughly enjoyed Christine's presentation. I think the idea that stuck with me the most was keeping the journal of 3-5 things that you are grateful for each day" ~Niki Severt
"Christine was truly an inspiration because she is so real and down to earth. I've been to other talks where the speakers talk "at you". Christine speaks from the heart and I know every woman in that room could relate to her. ~ Sheryle Hendry
I highly recommend Christine to any other company that requires training or consultancy on balancing work and life. I have no doubt they will benefit from Christine's knowledge, energy and charisma.  ~Gloria Bohman, Cargill Women Council.
I look forward to talking with you so we can help your group create a Life and Family they love! ~Christine 
To book an event contact:
Christine Martinello
info@christinemartinello.com
Ph:  678-960-4123